What is an 'Anapse'?
TL;DR: An "Anapse" is a made up word. It would be the opposite of a "synapse" (a connection in the brain). So it would be something like a disconnection in the brain. Referring to my scatterbrained, non-sequitur sense of humor and of the world. And maybe debilitating mental damage.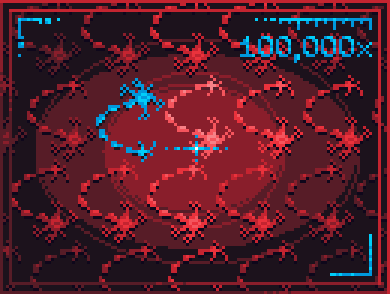 Around 2021 the new logo/mascot concept came along. A neuron rendered dead and stupid in a way that smells (in spirit) vaguely like a knockoff of a certain famous smiley face. You may find it stunningly clever that I named the damn thing "Neurvana".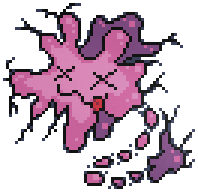 Alright feel free to stop reading now.
History of Anapse
The vague idea for a multimedia entertainment company came to me in high school. At the time I was making electronic music as "Anapsys" (previously DJ Irreality), burning the music to CDs, and forcing those CDs unwillingly on my friends. Last I heard, a couple people still had a scuffed copy of my concept album. Much later on I would get tired of the added obscurity in the name, and drop the "system", leaving only "Anapse". I started separating my personal identity from the company as well, always hoping it would become something bigger than just me.
It's no stretch to say I've always been interested in every art form. I had started making music because the video game I was making needed it - and I didn't have friends to do it for me. I quickly discovered that I actually liked making music MORE than I did making games (at the time). Things were further complicated when I decided I ALSO wanted to get serious about making the graphics. Later on, on the ferry to and from the Art Institute, I could be found doing any one of those things for the hour-long commute. I wasn't getting much better at them with an exhausted brain at 5am - I didn't even drink coffee back then.
During college (round 1) I put out a couple more albums. They were even generally considered "pretty good" by my friends. (One played a big role in courting someone who would become a fiancee!) But fame was still far out of reach. As were sales of kind. There was a sense I needed to redouble my efforts after college, and I began developing my biggest project thus far. The concept for Migrate was born in my first apartment in Bellingham, while cashiering. I would be doing all the art, code, AND music, with the aim of creating a convincing resume piece. And hopefully a breakout one-in-a-million indie darling!!
Before I knew it, four years had passed.
Taking on such a big project, without the payoffs to match, took their toll. The first year of development of the second demo was already coming to an end. And real life quickly caught up to me. Being a scatterbrain putting all my eggs in one basket had to stop. So I started cutting up my works into smaller, deliverable pieces.
It's worked a little better so far.
This is both a cliffhanger, and an introduction to the site. Anapse is meant to be a business card, a home for my computer science work, a showcase of cool and curated work I like, and any damn thing I feel like making. I hope you're excited to see where it goes.